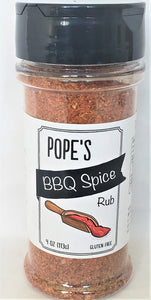 At the root of every great bbq is a spice rub. This rub works extremely well for pork and beef, bringing a highlight to chicken.
In keeping with all Pope's Kitchen products this distinctive blend has no pulp fillers or MSG flavor boosters. 
Made with the purest spices available, toasted and ground right before blending for the best flavors possible.
This blend is made from:
Kosher Salt, Brown Sugar, Paprika, Garlic Powder, Chili Powder, Black Pepper, Mustard, Cumin, Sage, Oregano, Onion Powder
 If you love the flavor profile of the CLE BBQ Sauce this blend of spices provides the back bone for that sauce.
Gluten Free
Buy 2 or more individual bottles and save 20%
Combine with Hot Sauces & Cocktails